What usually comes to mind when one thinks of North Korean women?  Those pretty cheerleaders that the North occasionally send out to international sporting events?  Women who, by very nature of being malnourished, being an average of 2-3 inches shorter than their South Korean counterparts?  Prettier than average Korean women in line with the Korean saying, "남남북녀" ("Namnam buknyeo"), or in English "Southern men [are handsomest], [and] northern women [are prettiest]."
Well, according to The Hankyoreh, at least one matchmaking agency has drawn some cartoons to expound their own stereotypes of apparently economically desperate North Korean women refugees looking for South Korean husbands to take them away from their destitution.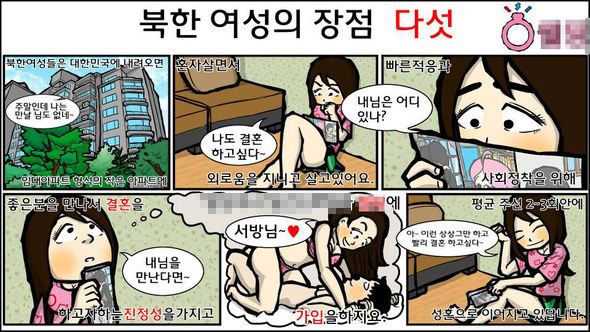 (Image from The Hankyoreh)
The blog Korea Exposé offers interesting English commentary:
A North Korean woman, alone in her cheap government housing, asks, "I want to get married. Where is my love?" She daydreams of being only in her underwear, straddling her ideal South Korean man, and calling out to him in affection, "My dear husband."

That controversial advertisement by a matchmaking firm specializing in bringing North Korean defector women and South Korean men together was abruptly pulled late last month amid a firestorm of criticism at the way it depicted North Korean women as lonesome, sexually charged, and desperate.
Added bonus?  The same match making agency put out another cartoon explaining the, uh, "benefits" of having children with North Korean women: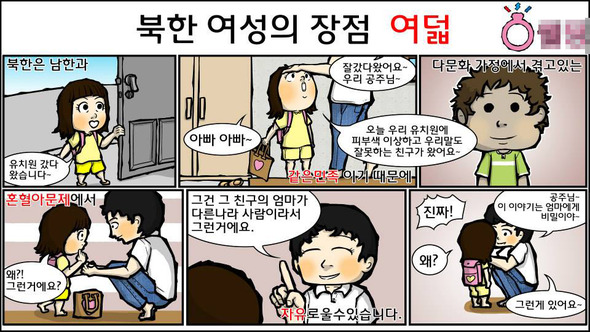 (Image from The Hankyoreh)
No brown interracial children!