On her Instagram account Lady Gaga posted a few pictures of her walking around Tokyo with an outfit that had, gasp, hangul written on it- 컬러.  Evidently it's Konglish for "color" (kol-lo), a play on the style of her outfit.
(Image from Kotaku.com)
Reported by the Asian pop blog Kotaku, evidently the fine folks at 2ch, wasted no time in getting a lively thread started to display their shock and aghast.  Some of the more interesting comments?
"She thinks South Korea and Japan are the same."

"Wearing clothes with Korean characters and sauntering about Roppongi is giving hate to Japan."

"Get outta here, you shitty white person."

"Yep, just a dumb American."

"Certainly looks like between Japan and South Korea, Gaga likes Korea more."
There appears to be two schools of thought here.  One is that Lady Gaga is an ignorant American who doesn't know the difference between hangul and hiragana and this is just a dumb mistake.  The other view (from the more paranoid 2ch members) is that Gaga knows full well that hangul is Korean and is taking Korea's side on historical issues!  Her parading around Roppongi in a hangul suit is her way of thumbing her nose at Japan!
Personally, I don't really know what Lady Gaga is trying to do, but I kind of think that she would know the difference between the two writing styles.  Crayon Pop did give her an outfit with her name stenciled in hangul on it: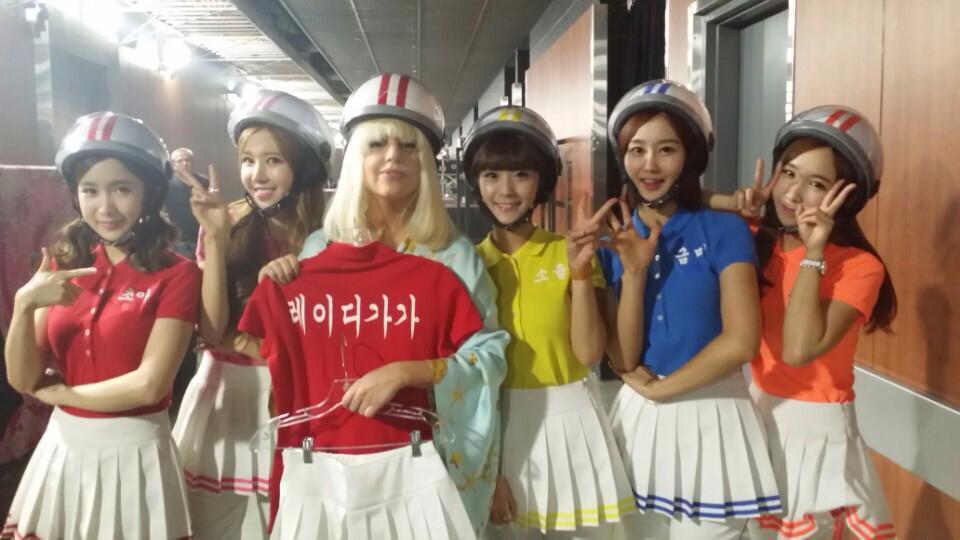 (Image from Lady Gaga's Twitter)
For those of you who may not know, it says Leh-yi-dee Ga-ga, in Konglish.
Now, in all fairness to 2ch commenters, if Lady Gaga was running around the streets of Seoul and taking pictures of herself with an outfit that had hiragana characters on it and prominently posted the pictures on the internet, then I would say that Korean netizens would react with similar butthurt and aghast.