Today's New Jersey Herald debates whether or not the state should legal recognize the sale, or otherwise handling of, soju as under "beer & wine" licenses.  This provision has already been established under NY and CA law, but New Jersey currently includes soju as a "hard liquor" that can only be sold in establishments with a full on liquor license.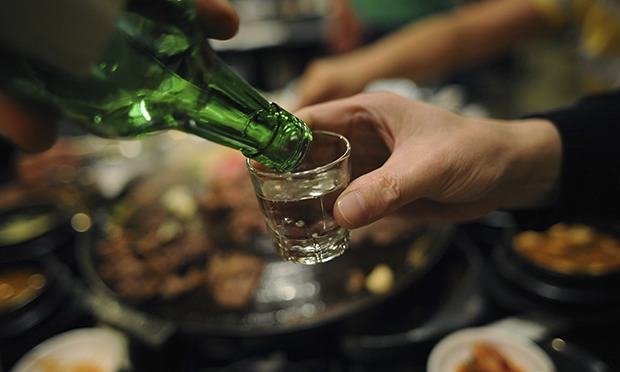 (Image from The Guardian)
The difference between a full liquor license and a beer & wine license is monetarily vast.  A liquor license can cost hundreds of thousands of dollars, but a beer & wine license is only a couple of hundred bucks.  The Korean community got the CA and NY governments to acquiesce by debating that the old liquor laws "inhibited their traditional culture" to routinely consume their "traditional" drink.
Kim, the attorney representing… businesses in Palisades Park [NJ], said that soju is "close to the heart" in Korean culture, and it can contain less alcohol — between 16 and 24 percent — than some wines. He compared it to beer because it is first fermented, and to Sake, the Japanese alcoholic beverage made from fermented rice. "It's not hard liquor," he said.
Not "hard liquor" huh?  It's "fermented," huh?  Listen, I like swigging soju in a local restaurant as much as the next guy, but the average soju in those "green monster" bottles are most certainly distilled rather than fermented and if it's not a "hard liquor" then it's awfully close to it.  Gotta love lawyers and their ability to swerve around words.
Apparently, NJ's laws being so different from neighboring NY's laws have caused some Korean establishments to cheat:
Soju's popularity has led to some problems in restaurants in Palisades Park and beyond, where police have issued summonses for its illegal sale and consumption.

[…]

In Palisades Park [alone], more than 20 citations have been issued in the last year to BYOBs for a variety of violations, including serving soju…