I guess I shouldn't get out my pith helmet after all — Madagascar's new government has canceled a controversial land deal with Daewoo Logistics. (HT to reader)
Kim Gi-cheon, a Chosun Ilbo editorial writer, was not particularly happy with the outcome, blaming the British press in particular in a column:
Late last year, the Financial Times took issue [with the land deal]. Running an article with the headling, 'Daewoo to cultivate Madagascar land for free,' the paper didn't hesitate to use harsh expressions like 'neocolonialism' and 'pirates.' It was like Korea was plundering a poor country for food security. It ignored the fact that Daewoo would create 70,000 jobs by investing US$6 billion over the next 20 years, and that if the local food situation turned worsened, the country wouldn't export corn. Once could call it an intentional distortion.
[...]
With the recent change in government in Madagascar, Daewoo's renting of farmland is in jeopardy of falling apart. The coup leadership that controls the new government has declared a "cancellation of the agreement," citing articles in the constitution. One could say in the end, the cantankerousness of the press of Great Britain, which one could call the father of colonialism, worked. Meanwhile, it's true that local opinion in Africa is not favorable towards foreign corporations acquiring farm land. We should not be disappointed, and investors and locals both must harmoniously search for a win-win path.
Frankly, I agree with guy in large part — it seems the FT's initial report didn't do the Daewoo deal justice, and even if the allegations of neocolonialism were true, Daewoo would hardly be the first to engage in such practices.
The Chosun's illustrator, however, might wish to reconsider his style: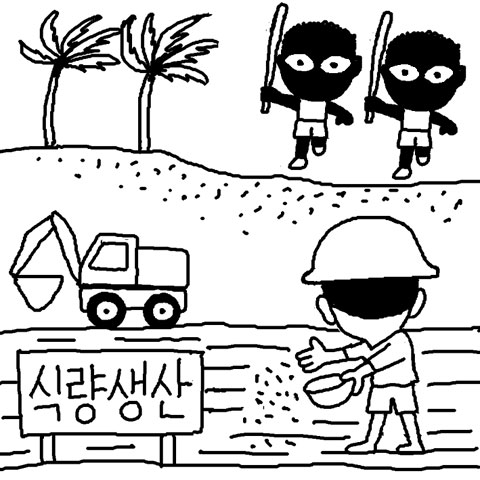 I'm going to cancel my bulk orders of gin and tonic water now.